In the middle of France, 40 minutes from Clermont-Ferrand, the Domaine du Balbuzard offers a relaxing centre for holidays around a lake. You can stay in one of our unusual accommodation (yurt, teepee, gypsy caravan or bubble starry night), small cottages or pitch your tent in our campsite. The restaurant of the Domaine allow you, on the terrace or by the fireplace, to enjoy the homemade dishes.
Come with your family ! We propose many activities :
- Fishing : carps, pikes, pearches...
- Relaxation time in the sauna on stilts
- Discovery of the surrounding nature (Permaculture garden, remarkable cows: 4 highlands)
- Walking and cycling
- Hiking in the volcanoes 30 minutes from the place
- Visits around ...
---
Come and enjoy the calm and charm of the Domaine du Balbuzard. The lodgings located overlooking the lake offer an exceptional setting where it is good to enjoy a few days of relaxation !
The cottage contains :
- 1 double bed
- 2 single beds (bunk beds)
- covers and pillows
- 1 sofa bed
- equipped kitchen
- bathroom and separate toilets
- private terrace with lake view
- Sheets are not included
Whether in Yurt, under a Tepee, in a Gypsy Caravan or in the Starry Night Bubble, the unusual accommodations invite you to travel, time for one night, or more ...
These atypical lodgings are rented fully equipped and are in front of the lake, for holidays with the masters words relaxation and change of scenery !
Discover the Mongolian traditional habitat ! Between its wonderful decorations and its wooden structure, the yurt offers you an exceptional holiday, feet in the water.
The yurt contains :
- 1 double bed
- 1 single bed
- (possibility of adding another mattress)
- Beds, covers and pillows / fridge, coffee maker, hotplates, crockery, classic kitchen utensils
- Sheets are not included
The Tepee, traditional habitat of Native Americans, offers the ideal setting to share a simple, friendly and close to nature !
The Tepee contains :
- 1 double bed
- 2 single beds
- Beds, covers and pillows / fridge, coffee maker, hotplates, crockery, classic kitchen utensils
- Sheets are not included
Come live for one night in a real Gypsy Caravan. Traditional decorations and views of the lake will charm you !
The Gypsy Caravan contains :
- 1 double bed
- 1 single bed
- Beds, covers and pillows are included
- Sheets are not included
The inflatable bubble, a true little cocoon, offers all the beauty of the outdoor landscape, with its transparent dome : view of the stars and the surrounding nature, while keeping the comfort of an hotel room !
The Starry Night Bubble contains :
- 1 double bed
- Beds, covers and pillows, lighting and electrical outlet
- Sheets are not included
The tent is located in lush greenery bordering the lake. It is already furnished and equipped with the necessary kitchen to facilitate your camping holidays.
The Tunnel Tent contains :
- 1 double bed
- 2 single beds
- Beds, covers and pillows / fridge, coffee maker, hotplates, crockery, classic kitchen utensils.
- Sheets are not included
---
The northwestern part of the place is dedicated to the campground. Tents, caravans and campers are welcome !
Pitches up to 100 m² are available. Some are shaded, others more unobstructed, some overlooking the lake, others more isolated, there is a place for everyone ! A sanitary bloc with showers, toilets and sinks is at your disposal.
A separate place is reserved for groups.
* These prices include vehicle(s), tent(s) and campsite(s)
---
---
We propose two formulas, a typical french crêpe or a Menu du jour (15€). The menu could be a nice gratin of raviole covered with a local cheese : the St Nectaire, accompanied by a salad of seasonal vegetables and a chocolate cake, everything is homemade !
We favor local products by working with a cheese producer as well as an organic vegetable gardener. We make our sourdough bread ourselves from local flour. And it is in the conviviality that we will be happy to invite you to seat in view of the lake.
---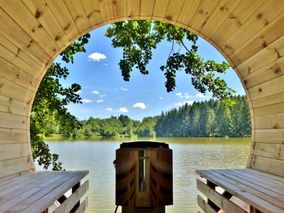 We also suggest you to take a moment out of time in the sauna. Installed on a pilot with a bay window plunging on the lake, discover this Scandinavian practice combining relaxation and conviviality!
20€/hour
---
You can enjoy free access to the game room, as well as its ping-pong table and foosball.Other games (petanque, mölkky, ...) are available to you on request.
---
100% NO KILL
Our 7 ha lake has very diverse borders and large emerged trees. So we decided to guide it for lure fishing. The goal is to make it a carnivorous tank in "No-kill". Currently, the pond is mainly populated pike and perch. Several fish over one meter have already been caught. Some Black-bass were also introduced in 2017. At the beginning of the season of emptying (October-November), we started by making an important release of about 100 kilos of pike between 50 and 90cm from surrounding ponds. In order to maintain the population and promote the quantity of fishermen's catch, about fifteen specimens are introduced every month until the end of the season (May). To regulate the number of fish, we organize from time to time sampling. The fishing of the edge, float-tube and boat is possible with his personal equipment or rented to the field. A pair of boots is recommended for fishermen on board who wish to have access to all positions. All fishing techniques are allowed except live fishing. For lovers of catch fishing, very beautiful tench and roach are present. And for the carp anglers, the owner limits to 2 positions (not delimited). To avoid problems with the lure fishermen.
Exclusively dedicated to lure and fly fishing, beginner or advanced, you can come and measure yourself against the predators of fresh water. In the lake, you will find pikes, perchs, black-bass, zanders. Due to the shallow depth of the lake, surface lures do not leave their predators unaffected ...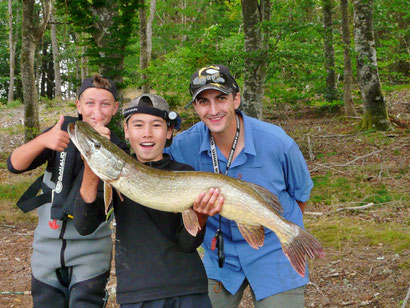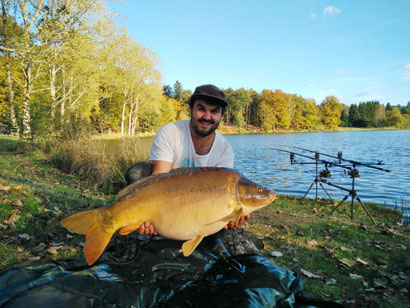 The carp, famous for its hyper-powerful fights and for its unforgettable departures is well represented in this pond. It has been introduced since more than 40 years and it reproduces here...We suggest you come and enjoy the campsite to spend nights hunting this fish.
With family or alone, beginner or confirmed, the frying is always a part of pleasure! Very pretty tench and keep you will get a maximum of feelings to the simple cane blow, the English, the feeder or even the big cane.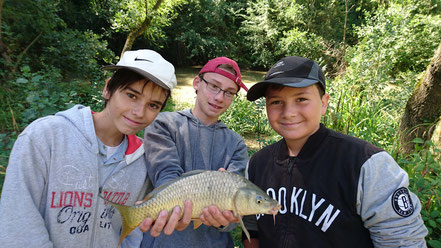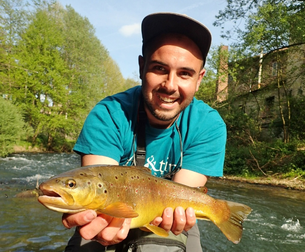 The region of Combrailles is a small paradise for trout fishermen. Between the rivers Sioule, Sioulet and many others. In these wild environments, trout and graylings will reserve you beautiful surprises!
Predator fishing:
Only lure fishing (hard, soft, metallic) is allowed (live fishing prohibited). One cane per fisherman, with hooks preferably crushed. Fishing float-tube is allowed. Squid required.
Carp fishing in battery:
3 rods maximum per fisherman, so as not to have any problem with lure fishermen, backleads are strongly recommended! In terms of priming, we require you to do it with reasonable quantities. Single hook only. Boat initiator authorized. Squid required.
Peach fishing:
Feeder, English peach and large cane fisheries are permitted. Squid strongly recommended. Single hook only. Priming in reasonable quantity authorized. 2 rods maximum per fisherman.
---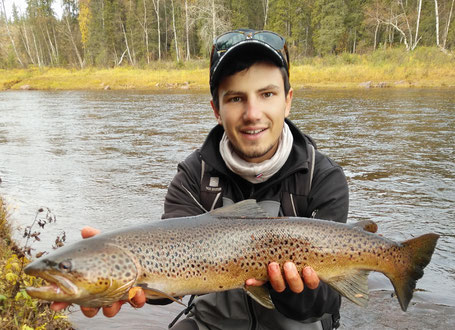 Pablo, fishing guide, offers its services for trips on the lake by boat, float-tube or edge, for adults but also in the form of entertainment for young people from 8 years (6 if accompanied ).
For those who would like to see more, we can organize trips on the large lake nearby dams and, for trout and graylings fishing, trips to the Sioule River or Sioulet.
---